Our special Intergenerational Church School days intentionally take into account the fact that there are learners of different ages and experiences in attendance. The programs seek to teach to the hearts of everyone present.
Intergenerational teaching and learning benefits both adults and children. It provides opportunities for all generations to understand the material differently and benefit from another perspective. It is a unique opportunity for the young to learn from the old, and for the old to learn from the young.
Examples of past Intergenerational programs include: World Communion Bread Making, Advent Wreath Making, Advent Spiral, and Holy Week Walk.
While we would like to strongly encourage participation from people of all ages, United Parish Safe Church Policy requires that children be accompanied by an adult.
Upcoming Intergenerational Events
Latest Intergenerational News
Fall Fellowship Weekend - October 8-10
Posted:
Oct 1 2021 - 1:34pm
Come join our Fall Fellowship Weekend activities on October 8-10! Check out the events flier HERE. We have a variety of exciting fellowship activities planned - a Zoom Trivia night promising lots of fun and prizes, an apple picking excursion to a family-favorite orchard, and coming together to celebrate with a lunch on the United Parish lawn after service on Sunday. Lunch foods will be provided but in the spirit of fall, we are welcoming anyone who would like to bring an apple dessert to share. We hope to see you at some or all of these events. If you have any questions about any of the weekend happenings, please contact the Gathering team at gathering@upbrookline.org.
Apple Picking Excursion Info 
Date: Saturday, 10/9/2021
Time: Meeting at the Orchard at 10:30am
Address: Hackleboro Orchard, 61 Orchard Rd, Canterbury, NH 03224
Meeting location: by the goats near the orchard store
Activities: apple picking, farm stand, burgers and hot dogs, pumpkins, hayrides, cider donuts, goats, bunnies, and chickens to visit, as well as opportunities for hiking in the woods with mountain views and enjoying fellowship in the great outdoors.
Things to bring:
Outdoor shoes
clothing layers
bug spray
sunscreen
water bottle
snacks
Contacts for the day:
Hackleboro Orchard: 603-783-4248
Ridesharing:
If you are interested in ride sharing (driving or riding), please contact Gathering at gathering@upbrookline.org
Ride share best practices:
Stay home if you are sick or if someone in your household is exhibiting undiagnosed symptoms
Wear a mask
Open windows to increase airflow
Consider seating that may allow for distancing if possible
Avoid using recirculated air
Use hand sanitizer
If you have any other questions about the day, please contact Gathering at gathering@upbrookline.org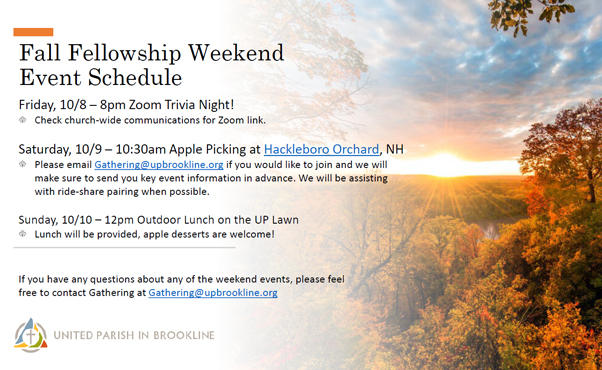 First Fridays Fellowship Night - August 6
Posted:
Jul 30 2021 - 4:20pm
Join us for some fun, fellowship and lawn games on Friday, August 6 at 6pm on the front lawn. The theme will be the Olympics! Contact gathering@upbrookline.org for more information.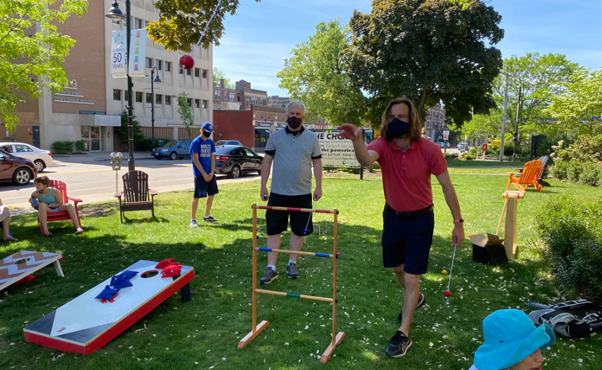 Sacred Stroll - July 17
Posted:
Jul 13 2021 - 4:25pm
Join us for a Sacred Stroll at Brookline's Riverway Park this Saturday, July 17 from 10am-12pm. Our Sacred Stroll this weekend will start at the Longwood T stop on Chapel Street at 10am and together we will enjoy nature and art as we walk! The Studios Without Walls is presenting its annual exhibition of outdoor sculptures at Brookline's Riverway Park with the theme "The Light Gets In". We will take a leisurely walk around the art and the park, and then share in a time of contemplative worship and discussion of the art we experience. People and animals of all ages are welcome! The entire route is accessible and paved. Parents, please accompany your children. Please RSVP to Deb H. at adultdeepening@upbrookline.org if you plan to attend, to help us plan for worship materials and water. Having RSVPs also helps us notify folks if we need to reschedule due to bad weather.