Join the fun at the annual Strawberry Festival held each year in June on the front lawn at United Parish. Enjoy yummy strawberry shortcake and food from the grill while tapping your toes to live music. Find bargains at the rummage sale and our thrift shop, Thrifty Threads.
Latest Strawberry Festival News
Donations Needed for Strawberry Festival Rummage Sale
Posted:
Jun 1 2022 - 5:46pm
The clear highlight of the annual United Parish Strawberry Festival is the shortcake, but a close second is the rummage sale. Spring is a perfect time for some cleaning and there's no better place to donate than to United Parish! You can drop-off your treasures in the Chapel June 12-17. This year's sale inventory will be ONLY books and small kitchen items. Questions? Contact Louise Bowler at bowlerlouisem@gmail.com.
Strawberry Festival Volunteers Needed!
Posted:
May 23 2022 - 12:21pm
We need you! Please sign up for a role in the Strawberry Festival. This annual event will take place on Saturday, June 18 on United Parish's front lawn.
We have roles for everyone and no contribution is too small. If you want to have a blast prepping berries, sit in the shade at the ticket booth, see the smiles of the people as you serve them a shortcake, display your grill mastery, or join one of our always stellar setup/cleanup crews, you can do any/all of these things and so much more! We are thrilled to be bringing back this beloved event to extend a welcome to our greater community and offer a chance for us to serve God by serving them in fellowship with one another. If you have any questions, please reach out to the Gathering team at gathering@upbrookline.org.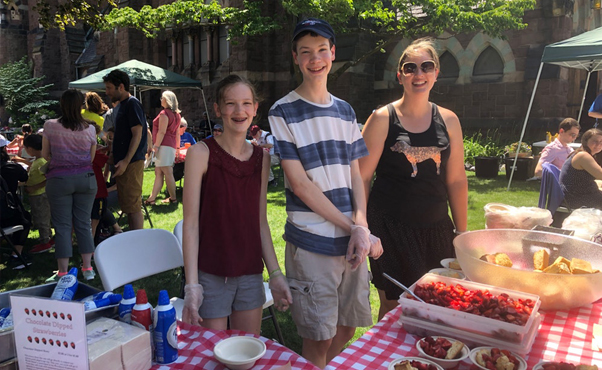 Save the Date: Strawberry Festival
Posted:
May 20 2022 - 2:00pm
Join us on Saturday, June 18 from 11am-3pm on the United Parish front lawn for strawberry shortcake, food from the grill, rummage sale, music and fun for everyone. Volunteers needed! Keep an eye out for volunteer signups soon. Contact strawberryfestival@upbrookline.org.