Join the fun at the annual Strawberry Festival held each year in June on the front lawn at United Parish. Enjoy yummy strawberry shortcake and food from the grill while tapping your toes to live music. Find bargains at the rummage sale and our thrift shop, Thrifty Threads.
Upcoming Strawberry Festival Events
Latest Strawberry Festival News
Save the Date: Strawberry Festival
Posted:
May 20 2022 - 2:00pm
Join us on Saturday, June 18 from 11am-3pm on the United Parish front lawn for strawberry shortcake, food from the grill, rummage sale, music and fun for everyone. Volunteers needed! Keep an eye out for volunteer signups soon. Contact strawberryfestival@upbrookline.org.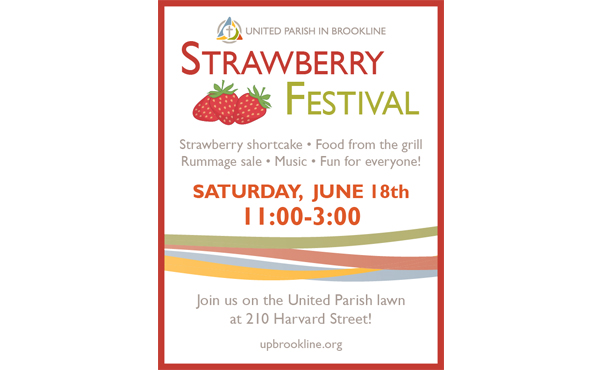 Another Successful Strawberry Festival
Posted:
Jun 18 2019 - 10:49am
On Saturday, June 15, we enjoyed beautiful weather, great music, delicious food, and many smiling faces. Thanks to all the volunteers who helped make the event possible. Special thanks also goes to our wider community who joined us for this special tradition!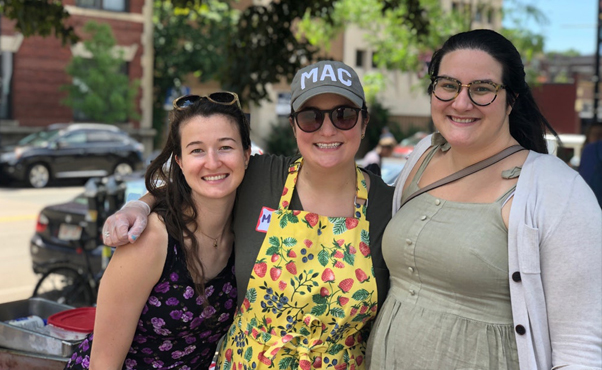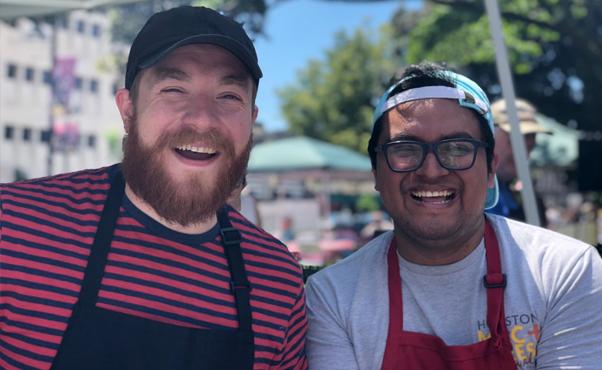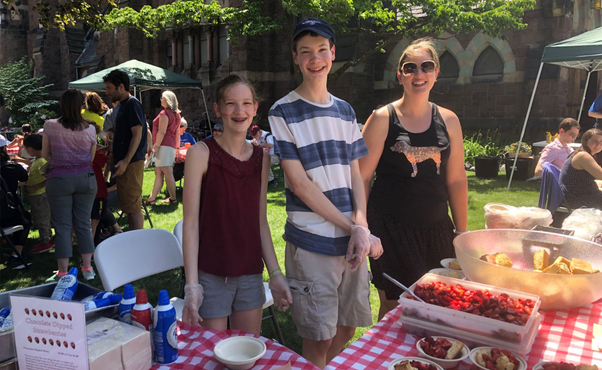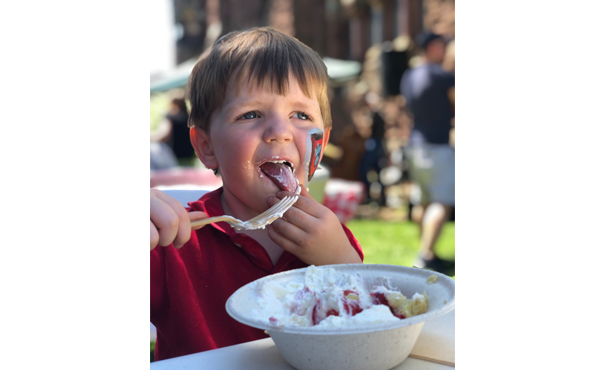 Volunteers Still Needed for Strawberry Festival
Posted:
Jun 13 2019 - 10:43am
We are just days away from the Strawberry Festival! The event is this Saturday, June 15 from 11-3.
-If you plan to deliver items for the rummage sale today or tomorrow, please bring them directly to the Chapel.
-Can you lend an hour or two of your time to support our church and community this weekend?
We are still in need of help in the following areas:
1. Rummage sale sorting and tagging Friday afternoon and evening. (3pm until it's done!)
2. Festival set-up: This begins at 8:30am and continues until the event begins at 11am. Jobs include moving tables and chairs; putting out tablecloths, flowers, and coloring materials; decorating our sidewalks with chalk; moving rummage sale items out to the lawn; and getting all the food stations prepped.
3. Festival hosts: Hosts act as greeters for the event. They have their "eyes up" to who is coming and going from the festival - saying hello and farewell as guests arrive and depart, directing people to all the fun activities and delicious food, answering questions, and passing out strawberry stickers. We are short on hosts all day.
4. Rummage sales salespeople: we are short on support for the sale all day.
5. Clean-up team: Beginning at 3pm we need help clearing the lawn. Many hands make this so much easier!
Looking forward to a wonderful day together on Saturday. Thank you to everyone who has already signed up to help, donated for the rummage sale, or helped to spread the word about the event. You are the "berry best!"