United Parish is an active contributor to the Brookline Emergency Food Pantry. The Brookline Food Pantry provides free food to Brookline families and individuals in need. Housed at St. Paul's Episcopal Church, 15 St. Paul Street, the Food Pantry is open Tuesday and Thursday from 10:00am to 2:00pm, and Saturday from 1:00pm to 4:00pm. Items most needed are: cereal, pasta sauce, soups, canned meats, tuna fish, canned vegetables and fruit, peanut butter, jams and jelly, powdered milk (boxes of individual packages), and toiletries (soap, shampoo and toothpaste).
Please bring your donation to United Parish on Sundays (or during the week when the building is open) and place your contribution in the baskets in the Marion Street lobby, in the back of the Sanctuary or at the 210 Harvard Street entrance. Someone collects the food donations each week and takes them to the food pantry at St. Paul's. You can also leave your donations directly at St. Paul's when the pantry is open.
Latest Brookline Food Pantry News
Around the Community: Brookline Food Pantry Fundraiser
Posted:
Oct 22 2019 - 4:09pm
Saturday, November 16, 2019, 7-11pm at the Coolidge Corner School (345 Harvard Street). Help feed your neighbors. Join the Brookline Food Pantry for a night of fun while partnering with them on their mission. Cocktails, bites, silent auction, presentation, live auction, and dancing. Tickets start at $250. Contact brooklinefoodpantry@gmail.com. Learn more.
Youth Group Community Service Day
Posted:
Oct 21 2019 - 12:56pm
The youth groups will be volunteering on Saturday, November 2 at the Brookline Food Pantry. The Middle School youth group should meet at St. Paul's Episcopal Church (15 St. Paul Street) at 11:30am, and the High School youth group should meet there at 1:30pm. Contact Deanna and David at youth@upbrookline.org for more information.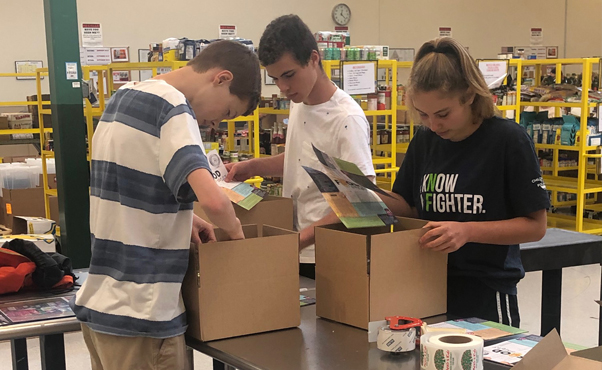 Brookline Food Pantry Seeks Volunteers
Posted:
Oct 18 2019 - 6:05pm
The Brookline Food Pantry is in immediate need of a volunteer willing to either drive a rented U-Haul to and from the Greater Boston Food Bank or be willing to ride along with a driver to help load and unload food purchased at the food bank. The commitment is approximately 3 hours on Thursday mornings. Volunteers can commit to a one-time volunteer opportunity or weekly/monthly/bimonthly or even occasionally as your schedule permits. For more information, please contact Chanin Kennedy, Operations Manager, at chanin@brooklinefoodpantry.org.