United Parish is an active contributor to the Brookline Emergency Food Pantry. The Brookline Food Pantry provides free food to Brookline families and individuals in need.
As of August 1, 2021, the main location of the Food Pantry is located at United Parish. Visit their website to learn more about food distribution and donation drop-off days.
Items most needed are: cereal, pasta sauce, soups, canned meats, tuna fish, canned vegetables and fruit, peanut butter, jams and jelly, powdered milk (boxes of individual packages), and toiletries (soap, shampoo and toothpaste).
Please bring your donation to United Parish on Sundays (or during the week when the building is open) and place your contribution in the baskets in the Marion Street lobby, in the back of the Sanctuary or at the 210 Harvard Street entrance.
Latest Brookline Food Pantry News
Update to Brookline Food Pantry Hours
Posted:
Sep 8 2022 - 7:30pm
Beginning Friday, September 16, the Brookline Food Pantry will offer additional hours for food distribution to clients. The Food Pantry will soon be open at their United Parish location on Wednesdays from 2-5pm and Fridays from 10:30am-1pm. Contact Operations Manager Arielle Chernin at arielle@brooklinefoodpantry.org.
Volunteer or Work at The Brookline Food Pantry
Posted:
Sep 16 2021 - 6:38pm
With three locations in Brookline, the Brookline Food Pantry (BFP) serves over 700 needy households each week, providing fresh produce, meat and dairy as well as household staples. They also serve over 500 students with food bags to take home from school each weekend and deliver food to clients who cannot get to them.
With clients coming to BFP in record numbers since the pandemic began, they always need additional volunteers and hope you will consider volunteering and telling family, friends, and neighbors about the opportunity to help. Potential volunteers can learn more and connect with them here.
They are also seeking a full-time Inventory Manager to play a key operational role and would appreciate your sharing this opportunity with family, friends and neighbors. In addition to managing Pantry inventory and assisting with daily operations, this role includes driving food between locations and lifting boxes up to 50 lbs. For more information, please contact Julia at brooklinefoodpantryjobs@gmail.com.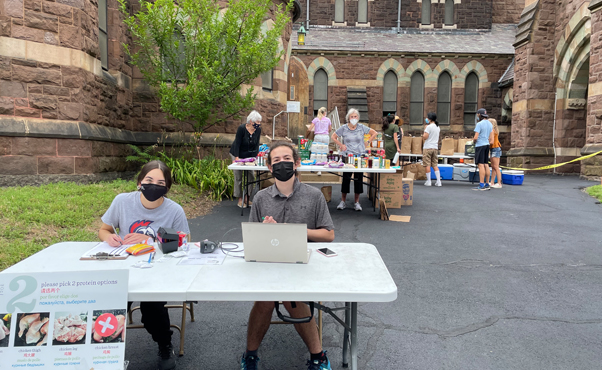 Food Drive for the Brookline Food Pantry - September 12
Posted:
Sep 2 2021 - 5:11pm
The Hearts and Hands Ministry Team will be collecting food on Sunday, September 12 to help support the Food Pantry. Bring your canned goods and non-perishable food to church with you on Sunday from 9:30am-12:30pm. Click here for a list of food in need. You may also make a monetary donation by clicking here. Contact heartsandhands@upbrookline.org for more information.