Community Thanksgiving Dinner
UPDATE FOR 2021:
This year, we are NOT holding our in-person dinner but we are partnering with the Brookline Food Pantry to provide grocery bags filled with all the ingredients needed to cook a Thanksgiving meal at home. PLEASE CLICK HERE FOR MORE INFORMATION.
Every year on Thanksgiving Day at 1:00pm United Parish in Brookline hosts a full sit-down Thanksgiving meal for up to 200 people.  The meal and service are all provided by volunteers in the church and in the community, and some food local organizations.  The meal is offered free of charge. 
The church office does ask for an RSVP to give those who work tirelessly on this project sufficient information about the number of people to expect for the meal.  The church office is receiving RSVP's now.  You can call 617-277-6860 x7 or email thanksgiving@upbrookline.org to RSVP or volunteer to help out that day.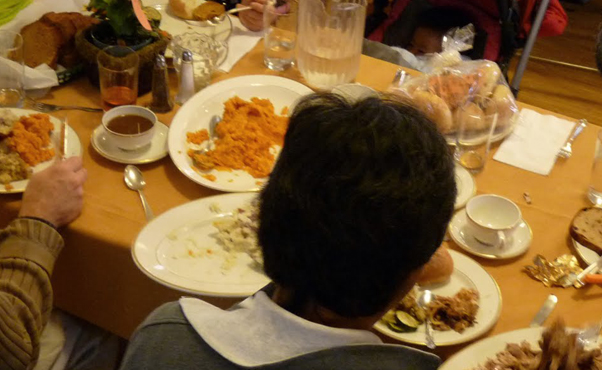 Upcoming Community Thanksgiving Dinner Events
Latest Community Thanksgiving Dinner News
Thanksgiving 2021
Posted:
Oct 28 2021 - 4:07pm
**SIGN-UPS HAVE CLOSED FOR 2021** If you are still looking for a Thanksgiving Meal, click here for a list of other locations, or click here for additional food assistance.
This year, we are doing something different! Instead of our usual in-person community Thanksgiving meal, we are excited to partner with the Brookline Food Pantry to support their efforts in providing groceries to members of the community. This is an opportunity to strengthen our relationship with the Brookline Food Pantry and provide food to our neighbors in need.
Free meal kits will be available for pickup during the week of Thanksgiving. These meal kits will include the raw ingredients to make an entire Thanksgiving dinner at home. We are not providing pre-cooked meals. Recipients will need to cook for themselves. Meal kits do not include recipes or instructions for cooking.

Meal kits include the following groceries:
whole frozen turkey (or a smaller frozen chicken, if requested)
instant mashed potatoes
stuffing mix
can of creamed corn
onions
white potatoes
sweet potatoes
apples
pie
gravy mix
cranberry sauce
carrots
All meal kits are the same; no substitutions or changes. We are not able to accommodate any dietary restrictions.
Meal kits are provided FREE, at no cost to our community members. Special thanks to our generous donors who make this event possible.
If you'd like to receive a meal kit:
Meal kits must be reserved in advance by Sunday, November 14; no walk-ups accepted. Recipients do not have to be Brookline residents in order to receive a meal kit. One per family.
SIGN-UPS HAVE CLOSED. WE ARE NOT ACCEPTING ANY ADDITIONAL SIGN-UPS.
Meal kits will be available for pickup on the following days:
Sunday, November 21 from 12-4pm at 226 High Street Community Room
Monday, November 22 from 1-5pm at United Parish at 210 Harvard Street
Tuesday, November 23 from 2-6pm at 55A Egmont Street Community Room
Pickup is preferred, however, a limited number of meal kits may be available for delivery if pickup is not an option for you. Meal kits will be delivered on Tuesday, November 23 and Wednesday, November 24. Volunteers will call you when they are on their way to give you an estimated delivery time.
Deliveries can be made to the metro-Boston area. Locations that are farther away will be considered on a case by case basis if volunteer drivers are available.
All volunteers will wear masks and can provide contactless delivery if requested. (Contactless delivery means that instead of the driver handing you your meal kit, they will leave it on your doorstep for you to pick up.)
If you'd like to volunteer:
The Food Pantry is looking for volunteers to deliver meal kits. There may also be an opportunity for a limited number of volunteers to assist by packing grocery bags. SIGN-UPS FOR VOLUNTEERS HAVE CLOSED. THANK YOU!
If you'd like to donate:
If you'd like to contribute, the Food Pantry requests that you make a donation of your time or money, rather than donating food items. To volunteer, please click here. To make a monetary donation, please click here.
Questions? Please contact United Parish at 617-277-6860 or email thanksgiving@upbrookline.org.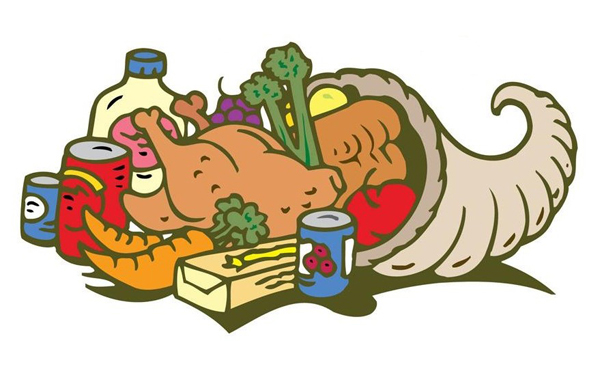 Thanksgiving Meal A Big Success!
Posted:
Dec 4 2020 - 4:42pm
Dear Volunteers and Congregation:
I cannot thank you enough for your overwhelming support in making this Thanksgiving dinner possible. With your help, we delivered almost 400 meals to those in need or who were without family to celebrate with this year.
I am happy to report that we had minimal hiccups in this very ambitious endeavor and I could not be more proud of this team of dedicated volunteers. I am so proud of the team for successfully cooking almost 400 meals and delivering them to almost 200 households across the city. This was no easy feat and I would say we pulled it off with flying colors. Your hard work and dedication did not go unnoticed. You stayed calm and collected during a hectic and stressful day and I am truly impressed. Thank you for enabling us to continue our Thanksgiving dinner tradition even in its new form. 
We received some very heartfelt messages from meal recipients who were so touched by the lengths we went to fill their stomachs with a warm meal on what may have otherwise been a lonely day for them. Thank you for helping us continue our tradition of a community Thanksgiving dinner.
                                                                                -- Arielle Chernin, coordinator
Some quotes from meal recipients:
"On a grey drizzly day you brought food and caring to a fellow human without family on Thanksgiving. Kudos. Gratitude to you and to all who made this gift possible!"

"Thank you so much for your kindness, generosity and for truly going the extra mile. Thanks for reminding me of the goodness in the world."

"I would like to extend a heartwarming thank you to all involved in making our Thanksgiving special. It is an amazing feeling knowing you are important to someone."

Thank you so much for the delicious meal. It meant so much to me in a year when I am separated from friends and family. Just knowing you are out there helped so much.

"It really brightened up my usual dull and dreary day."

"A simple thank you isn't enough to tell you how appreciative I am to be given a fresh meal prepared by people with open hearts and sincere generosity during this time when we are unable to spend time with family and friends in our homes, in their homes and in church."

"Thanks to all of you for the great dinner. Best turkey I have ever tasted."

"Thank you so much for your help. It meant so much especially since I am isolating because of COVID-19. My little granddaughters, 6 and 9, sent their charity money to United Parish because of this."

"Dearest UP of Brookline, Many things your parish does throughout the year are inspirational from the Strawberry Festival to this most delicious Thanksgiving meal. I savored every bite!!"

"Dear friends, Just a few words of gratitude for making my thanksgiving festive and memorable. A lot of work went into your day - the pretty white bag, the prayer, the recipe, the colored pictures by the children - and, the meal itself which was delicious. Thank you for all of it!"


"Thank you for feeding me on Thanksgiving Day. It was the food, yes; but also I really needed to know that a heart out there somewhere was beating in sympathy for my own."

Thanks to the generosity of the congregation and community, we raised over $5,400 to fund this meal. The United Parish Missions Giving Team has offered to match all donations!
We were also on TV and in the newspaper!
NBC Boston Channel 10 "Brookline Church Delivers Thanksgiving Meals to Those in Need" 11/26/20

Brookline TAB "Snapshots of Thanksgiving in a vastly different holiday season" 11/24/20, featuring Arielle Chernin, Kent French and Prabhu Devavaram.
Normally, our Brookline Interfaith Clergy lead us all in a shared Thanksgiving worship. This year, they have provided a 17 minute video of "Gratitude as an Act of Resilience and Resistance," featuring local rabbis, pastors, the Executive Director of the Brookline Food Pantry, and our own pastor, Kent French, who serves as lead convener of this group.
Thanksgiving Dinner 2020
Posted:
Oct 21 2020 - 4:45pm
This year, our annual Community Thanksgiving Dinner will be different. Preassembled meals will be available for delivery only on Thursday, November 26 to the Greater Boston Area. Meals will be cooked and prepared by volunteers at United Parish. Special thanks to the Brookline Food Pantry for their collaboration.
SIGN UP FOR A MEAL
UPDATE 11/23/20: Registration for meal delivery has closed. We are not accepting any more RSVPs. We wish you a very Happy Thanksgiving!
DONATE - WE'VE MET OUR GOAL!
UPDATE 11/13/20: Thanks to the generosity of our community, we have surpassed our fundraising goal for this year's Thanksgiving dinner. A huge THANK YOU for your support!
VOLUNTEER - WE'VE MET OUR GOAL!
UPDATE 11/18/20: We have enough volunteers; thank you to those who already signed up.

For questions or more information, please contact thanksgiving@upbrookline.org or 617-277-6860 x7.