Community Thanksgiving Dinner
UPDATE FOR 2020:
DUE TO COVID-19, THIS YEAR'S ANNUAL DINNER WILL BE DELIVERY ONLY. PLEASE CLICK HERE FOR MORE INFORMATION.
Every year on Thanksgiving Day at 1:00pm United Parish in Brookline hosts a full sit-down Thanksgiving meal for up to 200 people.  The meal and service are all provided by volunteers in the church and in the community, and some food local organizations.  The meal is offered free of charge. 
The church office does ask for an RSVP to give those who work tirelessly on this project sufficient information about the number of people to expect for the meal.  The church office is receiving RSVP's now.  You can call 617-277-6860 x7 or email thanksgiving@upbrookline.org to RSVP or volunteer to help out that day.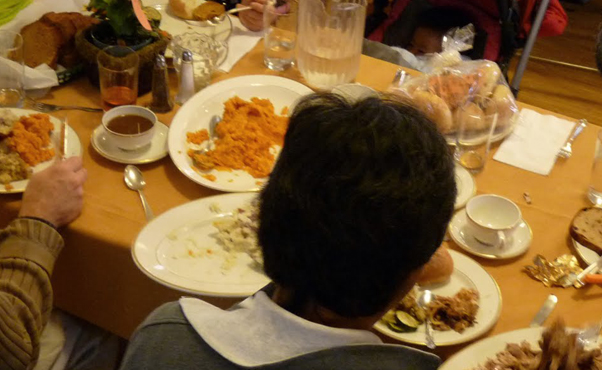 Upcoming Community Thanksgiving Dinner Events
Latest Community Thanksgiving Dinner News
Thanksgiving Dinner 2020
Posted:
Oct 21 2020 - 4:45pm
This year, our annual Community Thanksgiving Dinner will be different. Preassembled meals will be available for delivery only on Thursday, November 26 to the Greater Boston Area. Meals will be cooked and prepared by volunteers at United Parish. Special thanks to the Brookline Food Pantry for their collaboration.
SIGN UP FOR A MEAL
UPDATE 11/23/20: Registration for meal delivery has closed. We are not accepting any more RSVPs. We wish you a very Happy Thanksgiving!
DONATE - WE'VE MET OUR GOAL!
UPDATE 11/13/20: Thanks to the generosity of our community, we have surpassed our fundraising goal for this year's Thanksgiving dinner. A huge THANK YOU for your support!
VOLUNTEER - WE'VE MET OUR GOAL!
UPDATE 11/18/20: We have enough volunteers; thank you to those who already signed up.

For questions or more information, please contact thanksgiving@upbrookline.org or 617-277-6860 x7.
Community Thanksgiving Dinner 2020
Posted:
Oct 13 2020 - 2:32pm
For the past 35 years, The United Parish has been serving a Thanksgiving dinner in Willett Hall open to all. While some folks come because they do not have a place to go, and some come because they do not have friends or family nearby with whom to celebrate, everyone who joins our annual celebration comes to share a home cooked meal with others in a warm and welcoming space on Thanksgiving Day. Over the years, this United Parish tradition has come to include hundreds of volunteers and dozens of local companies and organizations that donate food. Most importantly, it has come to include all the individuals who come year after year from within and beyond our community to eat, share in fellowship and give thanks together. Last year, we had our busiest dinner yet, serving over 220 people and growing our community bigger and stronger. We were even featured on the local TV news!
This year, as we have come to understand all too well, we can't do most things as we normally have. Our favorite activities, traditions, and plans are being rescheduled, canceled or modified and we are all doing our best to stay positive, flexible, and optimistic, especially at The United Parish. What remains unchanged though, is God's love, our commitment to spread that love, and the strength of our beloved faith community.
So this year, we will still continue our Thanksgiving tradition, just in a different way. Our Thanksgiving dinner will be delivery this year. We will have turkey dinners available for delivery on Thursday, November 26th to anyone interested. Click here to reserve your meal. If we can't bring the Thanksgiving community into United parish this year, we will send a little bit of United parish out into the community along with our love and holy spirit.
It certainly won't be the same, but we are working hard to make sure it is special, meaningful, and delicious. And in order to do so, we need some help. Help will also look different than it has in the past. We are asking, this year, for monetary donations instead of food donations in an effort to streamline and adhere to new protocols. We will be purchasing all of the food needed in bulk to help with ease of cooking and distributing, and to limit the number of hands on product.
We know the joy that shopping and donating food for this meal brings many of you, but we hope that given the circumstances, you may channel that joy towards a monetary donation as your contribution. A donation of $20 can fund three and a half Thanksgiving meals. Every little bit counts and a donation of any amount will be met with grateful hearts. Our Missions Giving Team will do a 1:1 match for any donations that come in, so your contribution will have twice the impact!
While we won't be able to have many volunteers in the church with us as we prepare these meals Thanksgiving week, we will be looking for volunteers to deliver meals on Thanksgiving day. Sign up here. We are also looking for volunteers to make greeting cards and goodie bags to go with each meal. We have our thinking caps on for ways to make this meal personal, heartwarming, and welcoming. If you have ideas, suggestions, or questions about how you can get involved, we would love to hear from you. Please email us at thanksgiving@upbrookline.org.
This Thanksgiving, our community will still grow and strengthen. We have a foundation filled with faith, love, and spirit and we continue to spread that, no matter what is happening in the world around us.
A Successful Thanksgiving Dinner
Posted:
Dec 4 2019 - 10:20am
Special thanks to all those who donated food and flowers, and volunteered their time to make this year's Community Thanksgiving Dinner a success. We once again filled Willett Hall with over 220 guests, 100 volunteers, 50 pies, 20 turkeys and God's love! This event could not have been possible without all of you. Your love, support, time, and dedication made this dinner one of the largest, smoothest, and well received Thanksgivings we have had at United Parish.
It warms our hearts to see the church basement filled with so many people coming from so many different places to share a meal and fellowship together. We truly could not have done it without each and every one of you. Thank you for showing up, organizing jobs, solving problems, preparing food, setting tables, greeting guests, serving, washing dishes, playing music, making friends, and breaking bread with one another.
Together in our gathering we have shared our love, widened our community, and become richer for it. Every year we wonder how we will pull it off. And every year to our amazement it all comes together, thanks to the loving energy and talents you bring to this effort. Your love and generosity uplift us all.
–The Thanksgiving Coordinators