Every year United Parish participates in a Day of Service organized by the City Mission Society of Boston to honor the life and legacy of Reverend Doctor Martin Luther King.
Latest MLK Day of Service and Learning News
Commemorating Martin Luther King Jr. Day
Posted:
Jan 17 2019 - 2:08pm
City Mission's MLK Day of Learning
Saturday, January 19
8:30am-1:00pm
City Mission Boston
185 Columbia Rd
Boston, MA 02121
 Brookline Action Fair Inspo:Expo
 Noon-3 p.m. Monday, Jan. 21, Kehillath Israel Synagogue, 384 Harvard St. This event will commemorate Martin Luther King Jr. Day through action. Attendees meet Brookline neighbors, learn about their social action project and take part in hands-on activities for both youths and adults. For information or to volunteer: Deidre Waxman, 617-730-2767. Learn more.
Film Screening at Coolidge Corner Theatre
On Monday, Jan. 21, Brookline's MLK Day Celebration Committee is presenting "On Race: Brookline Then and Now" at the Coolidge Corner Theatre from 3 to 4:30 p.m. (free admission). Featuring "Brookline, Facing Civil Rights," a documentary film conceptualized by the Committee and produced by R. Harvey Bravman, it highlights recollections of civil rights in the 1950s, 1960s and 1970s by six Brookline residents. After the film there will be a discussion with Boston Globe Spotlight Editor Patricia Wen, who in 2018 oversaw a seven-part series on race issues in Boston.
The program also includes poetry, music and inspirational words of MLK and features poet/performer Regie Gibson and Brookline Poet Laureate Zvi Sesling."
MLK Day of Learning - "Couragous Conversations on Racism"
Posted:
Dec 23 2016 - 10:48am
City Mission is proud to host Courageous Conversations on Racism as part of their Rev. Dr. Martin Luther King, Jr. Day of Learning. The entire event will be here at United Parish.
This will be an intergenerational event that is designed to empower participants with the tools to have brave conversations around the issues of race.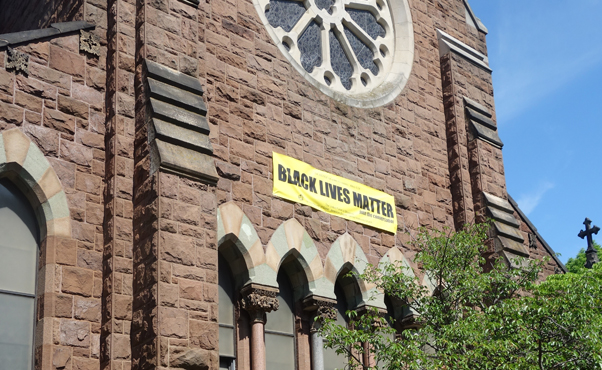 MLK Day of Service 2015
Posted:
Feb 24 2015 - 2:51pm
United Parish sent a team of nearly twenty to the Martin Luther King Day of Service. The day ran smoothly in spite of a number of mishaps. Carl McDonald, the Urban Outreach Director for City Mission Society, who organizes and coordinates the MLK Day of service had taken a fall earlier that week, which put him out of commission for the rest of the week and the for the day of service. Others stepped in and picked up the slack for the day coordinating over 300 volunteers.
About 10 United Parish folks were at the Mather Elementary School helping move supplies and furniture, clean areas and organize books in the library under the supervision of a very committed custodian and an enthusiastic librarian. Another smaller group was at the Chittick School in Mattapan, painting in an unheated building.
A third smaller trio of Micah and Susan D. and Carrie M. joined other organizations who were cleaning classrooms in the Russell Elementary School near Upham's Corner in Dorchester. They swept, scrubbed floors, desks, chairs, and overall gave this sweet and very creative kindergarten classroom lots of extra love. The building currently has one janitor for 369 students, who is not able to focus on each classroom as the work teams were able to.
Another second mishap was also handled smoothly and generously. At the last minute, lunch and worship were re-located from their original location at the Twelfth Baptist Church, which Martin Luther King, Jr, attended while at BU, to the Hope Central Church in Jamaica Plain.
Worship was primarily led by June Cooper the Director of City Mission Society and the amazing and energetic, Donnell Patterson, Director of the New England Conservatory Gospel Choir. Much of the service we were on our feet and singing.