Come bring your warm and welcoming smiles to help usher on Sunday mornings. Ushers may either be a part of the welcoming team and/or help with receiving the offering and serving communion. This is a weekly commitment; we are seeking volunteers to commit to one Sunday each month.
Latest Ushers & Greeters News
De-escalation Training for Ushers and All Interested Parishioners
Posted:
Jan 17 2023 - 1:52pm
Troubling things do happen when we least expect them. Many of us would like to respond to difficult behavior in the safest, most positive, most compassionate, and most effective way. To that end, the Brookline Police will be doing a De-Escalation Training at United Parish on Sunday, January 22, after church in the Parlor. This training will be for ushers and any other interested members of United Parish. A light lunch will be served at the beginning. Please sign up by emailing ushers@upbrookline.org if you plan to attend.
Be a part of the Big Welcome! Ushers Needed
Posted:
Sep 8 2021 - 3:42pm
Our ushers are often the first friendly faces that people see when they come to the United Parish. Wouldn't you like to join in this extravagant welcome? Contact ushers@upbrookline.org or one of the pastors to find out how to be an usher.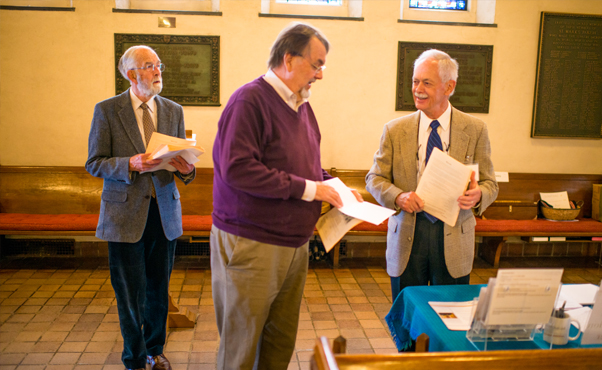 Usher and Greeter Training
Posted:
Dec 7 2017 - 1:04pm
Would you like to be part of the ministry of welcoming guests and members of the United Parish community to our worship services? You are invited to an upcoming Seminar for Ushers and Greeters. The purpose of the Seminar will be to enhance the partnership of these two vital areas of ministry at the United Parish and to help train new greeters and ushers to participate. We will share guidelines, discuss possible emergencies, go over fire safety locations and procedures, do a walkabout using a map of the sanctuary and end with optional AED training. Please join us January 28, 2018 at 12:30pm in the Parlor. Contact exalting@upbrookline.org.