The Youth Choir is open to sixth/seventh through twelfth graders. The Youth Choir leads, enhances, and deepens our worship experiences through their anthems and special presentations. The youth sing in parts, develop vocal technique and musicianship, and work on a wide range of repertoire, from gospel to classical. They occasionally sing with the adult choir and serve as role models for the younger choirs.
Rehearsals are Sunday mornings from 9:0 - 9:45 a.m. in the Parlor. The Youth Choir sings about once a month during the 11:00 a.m. worship service.
Want to get involved? Have questions?
Upcoming Youth Choir Events
Latest Youth Choir News
Church School and Music Programming Registration 2019-2020
Posted:
Aug 22 2019 - 1:05pm
Back to school season means it's time to register for church school and music programs for children and youth. You can learn more about the different educational for children and youth and musical offerings here. All are welcome!
Registration packets have been mailed. If you didn't get one or need extra forms, you can pick up a packet before or after worship, or download the forms below. Contact Associate Pastor, Amy Norton (amy@upbrookline.org) or Minister of Music, Susan DeSelms (susan@upbrookline.org) or Assistant Music Director, Josaphat Contreras (josaphat@upbrookline.org).
Letter from Associate Pastor, Amy Norton
Letter from Minister of Music, Susan DeSelms and Assistant Music Director, Josaphat Contreras
2019-2020 Music and Church School Calendar
Registration Form (please fill out one per child)
When to Keep Your Child Home from Church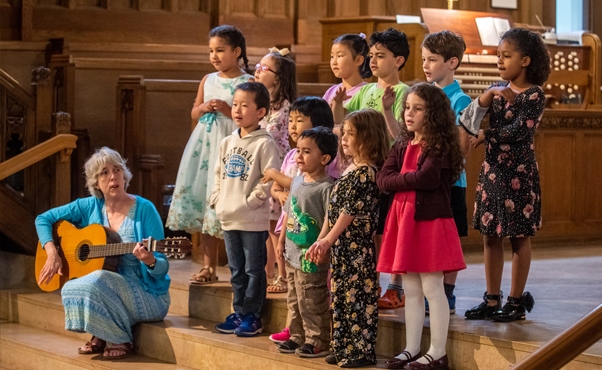 Save the Date: Kick-Off Sunday
Posted:
Aug 22 2019 - 10:44am
On Sunday, September 8, worship will return to the Sanctuary at 11am as we kick off the 2019-2020 program year. We'll start the year off with an orientation for the Carolers and Youth Choir, Church School Convocation, the Blessing of the Backpacks, and an all-parish cookout on the front lawn.
SUNDAY, SEPTEMBER 8
9:00am
Carolers Rehearsal (Choir Room)
9:00am
Youth Choir Rehearsal (Parlor)
9:15am
Nursery Open (Room 203)
9:45am
Church School Convocation (Sanctuary)
10:00am
Adult Drop-In Bible Study (Deepening Room)
10:00am
Chancel Choir Rehearsal (Choir Room/Sanctuary)
11:00am
Worship and Blessing of the Backpacks (Sanctuary)
12:00pm
Welcome Back Potluck (Front Lawn; rain location: Willett Hall)
12:30pm
Confirmation Opening Retreat (Parlor)
Choristers Guild Children's Choirs and Arts Festival
Posted:
Mar 13 2019 - 2:43pm
Members of the United Parish Carolers and Youth Choir will join numerous other local choirs for this annual event. The kids will enjoy a full day of activities including singing, dancing, acting, life-size puppet making, drumming, and art. Members of the United Parish community are welcome to attend the closing Festival Worship on Saturday, March 30 at 4pm at Trinitarian Congregational Church (2 Pine Street, Norton). Learn more at cgboston.org/festival-2019.