Responding to Gun Violence
In addition to the direct involvement we take in outreach activities, both as individuals and as a church, from time to time we feel called to express our commitment to social justice by speaking out as a body on issues of importance to our society and the world.
In January 2013, the members of United Parish took just such a position, voting in a special All-Parish Meeting to send a letter to all our elected representatives expressing our concern over the level of violence in our society (as evidenced by the shootings in December 2013 in Newtown, CT) and asking them to work on effective measures to strengthen gun safety and mitigate gun violence.
As a public service, we have compiled links to some of the more informative resources on this issue, which can be accessed here.
Latest Responding to Gun Violence News
Gun Safety Update: More School Walkouts
Posted:
Apr 25 2018 - 12:51pm
Students continued their nationwide gun safety campaign with more school walkouts on April 20 – the 19th anniversary of the Columbine High School mass shooting (13 killed, 20 wounded). Columbine highlights the so-called "gun show loophole" that exempts 40% of gun sales from background checks. The two teenage shooters were too young to purchase guns from a licensed dealer, so a girlfriend fronted for a private sale at a gun show. The girlfriend later said, "It was too easy" -- that she would not have helped if there had been a background check that listed her as the purchaser. [Source: Adam Winkler, "Gun Fight: The Battle Over the Right to Bear Arms in America" (2011), pp. 73-76] Learn more about how United Parish is involved in advocating for gun safety here or by contacting stretchingintojustice@upbrookline.org.
March For Our Lives 2018
Posted:
Mar 29 2018 - 11:06pm
The teenage leaders who organized the "March for Our Lives" in support of gun safety laws deserve our respect and admiration. They received strong support from the United Parish congregation at this past Saturday's march and rally on Boston Common. Present were: Matt and Nicole (the newest United Parish members), Cyrus, Anna, Melanie, Priya, Seanna, and Nick (our youth contingent), Kent & Amy (our Pastors), Alicia, Mary, Chad & Kendra, Beverly & John, Merle & Peter, Paul & Kathy, Dave F., David R, Anne, Linda, and Julie (apologies to those we missed).
Support for gun safety legislation is not new at United Parish. The month after 28 children and adults were shot dead at the Sandy Hook elementary school in December 2012, a special All Parish Meeting voted to send a letter to the Massachusetts congressional delegation. Sadly, the steps we urged then are still awaiting action in Congress now. The lack of a political response after still more mass shootings have occurred underscores the importance of the voter registration effort undertaken by the organizers of the March.
Two items worthy of special note have occurred in the few days since the March. Citibank announced it would incorporate rules to restrict gun sales in loan agreements with its clients – another positive response by business leaders to the students killed in Parkland, Florida. Second, retired U.S. Supreme Court Justice John Paul Stevens called for the repeal of the Second Amendment, while pointing out that common sense gun regulation was considered consistent with the Second Amendment throughout our history (NY Times 3.27.18).
For more information, contact stretchingintojustice@upbrookline.org.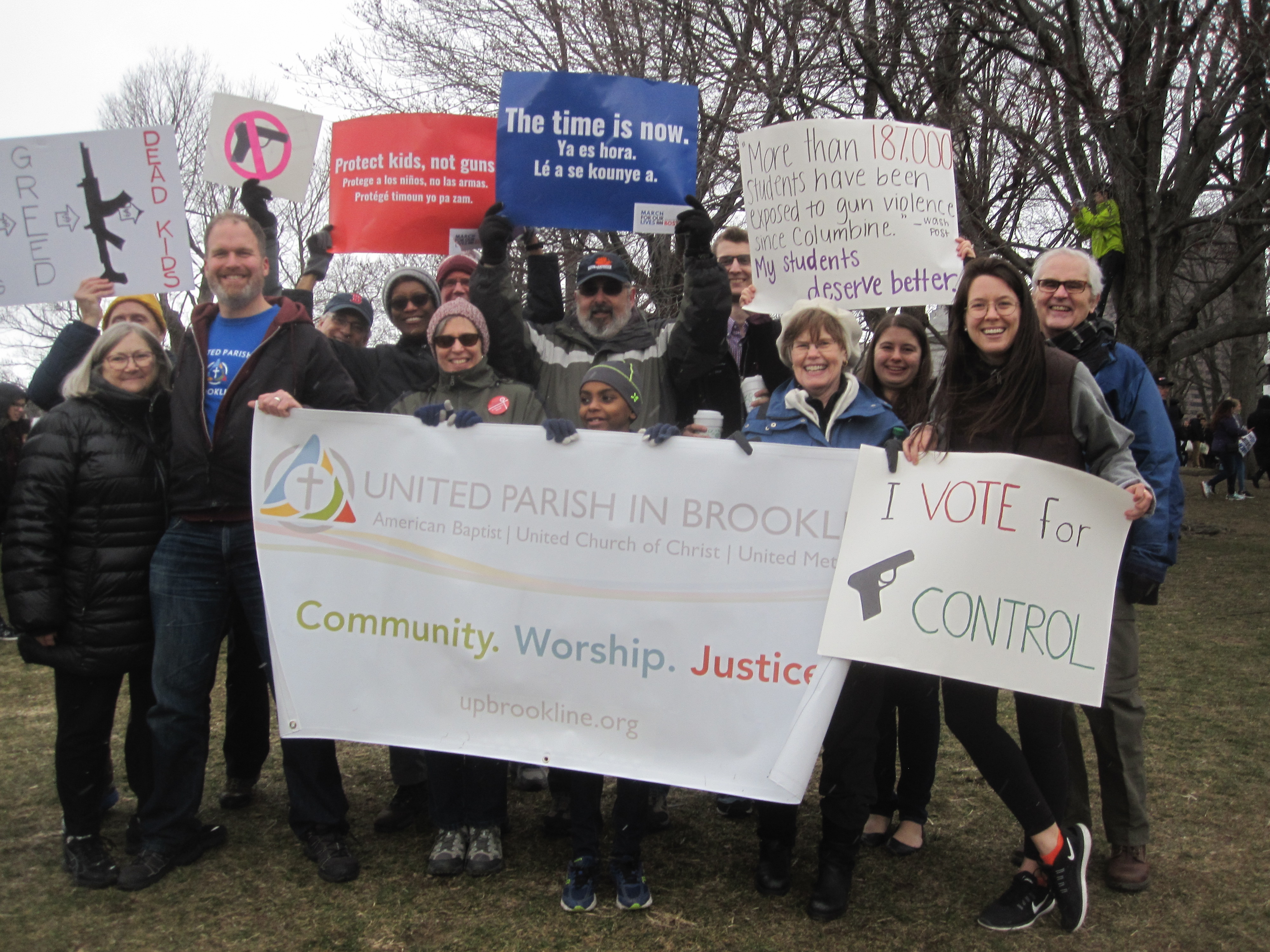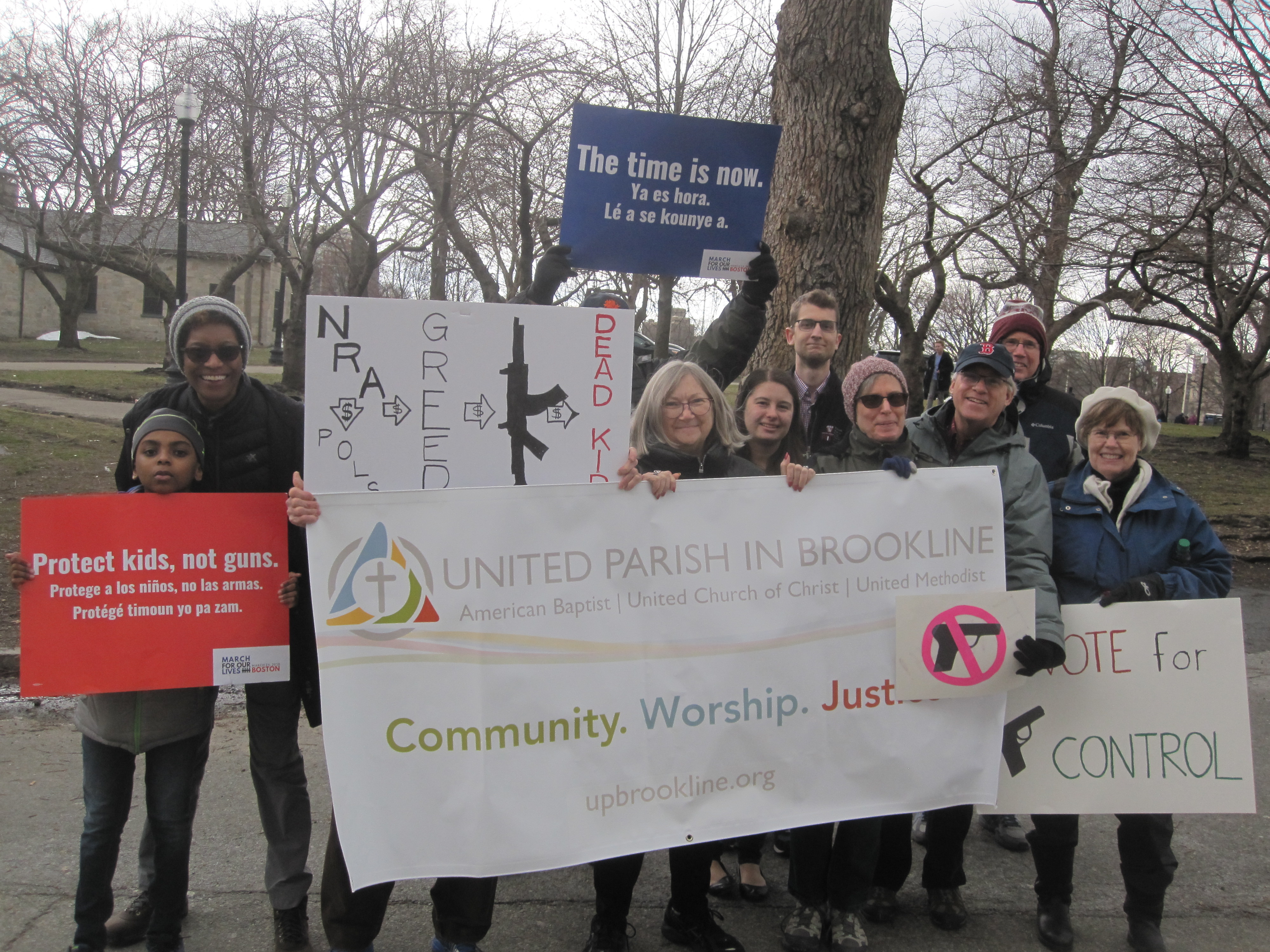 Join the March For Our Lives in Boston - Saturday, March 24
Posted:
Mar 14 2018 - 1:58pm
1 shooter. 1 military-style assault rifle. 6 minutes. 17 dead, 14 wounded in the Florida mass school shooting. That's all it takes – scarcely enough time to react!
"Enough is enough," the teenage leaders implore us. Respectful people should be able to reach across a vast cultural gulf to forge common sense responses to this repeated mayhem. New public opinion polls show most Americans have already reached that point.
• 88% support universal background checks
• 81% favor raising the gun purchase age to 21 years
• 70% endorse a ban on high-capacity ammunition magazines
• 66% support a ban on assault-style weapons (we had such a ban before Congress let it expire) [The New Yorker, 3/12/18, p. 27]
Past experience – the Sandy Hook elementary school killings – says that polls alone will not be enough. Show your support for the Washington, D.C. march.
Show your support for the national movement against gun violence started by high school victims of the Parkland, Florida mass shooting.
Join us on Saturday
A United Parish group will attend the Rally – Meet in the chapel at 12:00 pm to make signs.  Materials will be available.  We will leave at 12:45 pm to take the MBTA Green Line to the Boylston stop for the Rally.  (Note time changes).
Or, like Pastor Kent and Pastor Amy, you can meet the United Parish group at Boston Common --  between the Boylston stop Inbound and Outbound buildings at approximately 1:30 pm.  We will then head to the speaker stand in time for speeches at 2 pm.
If you want to participate in the prior 2.3 mile March from Madison Park High (75 Malcolm X Boulevard) to Boston Common, you need to arrive at the high school before 11 am.  The school is near the Roxbury Crossing Orange Line T stop and on the 15/19/23/28/45/66 bus lines.  You will arrive at the Common in time to meet the United Parish group at 1:30 pm.
Rules of the event – No backpacks, sticks for signs, pets, or lighters are allowed.  Charge your cell phone.  Bring your Charlie Card, warm clothing, and a water bottle.  Stuff snacks in your pockets (or bring a sandwich to eat while we make signs).  Full information is available here .
Thanks for taking action on this important issue!
Contact Beverly at stretchingintojustice@upbrookline.org
Visit MarchForOurLivesBoston.com for more information.