The Youth Choir is open to sixth/seventh through twelfth graders. The Youth Choir leads, enhances, and deepens our worship experiences through their anthems and special presentations. The youth sing in parts, develop vocal technique and musicianship, and work on a wide range of repertoire, from gospel to classical. They occasionally sing with the adult choir and serve as role models for the younger choirs.
Rehearsals are Sunday mornings from 9:0 - 9:45 a.m. in the Parlor. The Youth Choir sings about once a month during the 11:00 a.m. worship service.
Want to get involved? Have questions?
Upcoming Youth Choir Events
Latest Youth Choir News
Singers Needed
Posted:
Nov 17 2017 - 11:29am
Your (Tenor or Bass) Voice is Missing! The Chancel Choir has been growing, filling the church space and the heart space with their robust and prayerful sound. As our Soprano and Alto numbers have swelled this autumn, we are especially in need of Tenors and Basses (low voices) to come explore their place in the choir. We welcome singers of any experience level! If the spirit has been moving you towards joining your voice in song during service, please consider joining our vibrant musical community in this way. We need your voice! The Chancel Choir rehearses on Thursday evenings at 7pm, and Sunday mornings at 10am. We welcome new singers throughout the year, in our Carolers choir (1st grade - 6th/7th grade) and in our Youth Choir (7th/8th grade-12th grade) as well! Please see Susan DeSelms ([email protected]) or Liz Eschen ([email protected]) or any of the choir members in robes after the service if you have any questions about what it is all about!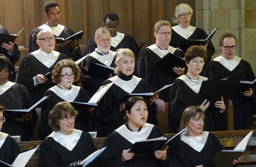 Choristers Guild Children's and Teen's Choir and Arts Festival
Posted:
Nov 9 2017 - 11:32am
Members of the United Parish Carolers and Youth Choir will join numerous other local choirs for this annual event. The kids will enjoy a full day of activities including singing, dancing, acting, costume making, handbell ringing, drumming, and art. Members of the United Parish community are welcome to attend the closing Festival Worship on Saturday, November 18 at 4pm at St. Andrew's Episcopal Church (79 Denton Road, Wellesley, MA 02482). Learn more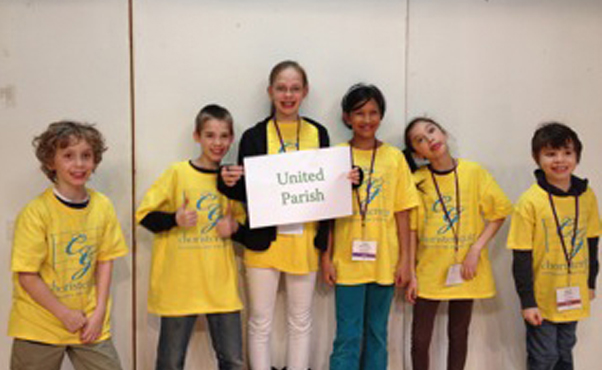 MARCH
Posted:
Feb 1 2017 - 9:54am
On their Winter Retreat last weekend, our Youth Choir and Carolers began the creative task of staging portions of "March," their dramatic presentation examining a history of oppression, from biblical and American slavery, to the Civil Rights and Black Lives Matter movements.
As the presentation will center around acts of Godly protest, one of the first tasks the children accomplished was the making of their own protest signs, pictured below. What poignant messages come from the minds of our little ones!
They also practiced, and created their own words for protest songs from the Civil Rights Movement, tying the thread of oppression through the millennia in language we can all understand.
On Sunday, February 12, the children and youth choirs and church schoolers will offer this dramatization in worship @ 11am in the Sanctuary. Come watch and experience their creative understanding of our history, unfolding in scripture, song, and story.
Special thanks to Merle P., David R., and Deb W., without whom none of this would be possible!
Read the Pastor's Blog HERE for a further description of the event.